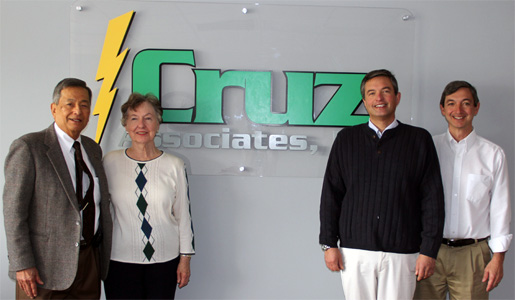 Family. Customer. Cause.
CAI's commitment to unparalleled technical support begins with a rich family heritage and extends through all company leadership today. CAI's executive team shares a legacy of service to multiple Government agencies as well as a commitment to on-going technical excellence.
CAI's executives lead by example; they remain dedicated to the highest standards of professional performance and are steadfast in their commitment to empowering the entire CAI team to serve the diverse technical needs of our customers.
Ignacio "Iggy" Cruz, Company Founder
A road less traveled. Ignacio T. "Iggy" Cruz was born on the Island of Guam, and as an adolescent boy, he survived the WWII Japanese occupation of his homeland. In 1949, Iggy immigrated to the United States, seeking opportunities for education and intellectual enrichment. He enrolled in Berea College in the state of Kentucky and earned Bachelor of Science degrees in Math and Physics in 1953. By 1955, he earned an additional Bachelor of Science in Civil Engineering from the University of Kentucky. As an employee of the Kentucky Department of Highways, Iggy was responsible for the engineering of some of the first Interstate Highways in the United States.
Strong roots. Eric Cruz was born in Guam, just months before Typhoon Karen devastated 90% of the island, an event that sent his family in search of milder climates in the United States. Eric grew up in Williamsburg, Virginia, surrounded by a rich cultural blend of American history and military installations. After graduating high school, Eric began working in a Cooperative Education Program as an Engineering Student Trainee at NASA Langley Research Center. He graduated from Virginia Tech in 1986 with a Bachelor of Science degree in Mechanical Engineering. Eric immediately began working as a Civil Servant engineer for the Naval Mine Warfare Engineering Activity in Yorktown, Virginia, and he quickly rose to the position of Division Chief. Seeking a new challenge, he made the decision to resign in 1995 in order to start a business.
Chris Cruz, Chief Financial Officer
Focused. Chris Cruz was born in Shelbyville, Kentucky, and at a young age moved with his family to the Island of Guam. Chris was three years old when the historic Typhoon Karen devastated the island and chased the Cruz family back to the United States to the much calmer state of Virginia. Chris graduated from high school in Williamsburg, Virginia, and immediately pursued a college education. He attended Wake Forest University, Virginia Tech, George Washington University, Old Dominion University, and The College of William and Mary, earned one undergraduate degree and two graduate degrees in the fields of engineering and applied mathematics.
Greg Stewart, Vice President, Operations
As the Vice President of Operations, Greg Stewart brings over 25 years of professional experience in Government Acquisition, Program Management, and Army Aviation to Cruz Associates Inc. Prior to joining the Cruz team in 2007, he served over 23 years in a variety of aviation leadership and special operations acquisition positions with the U.S. Army. Greg also held a leadership position as the Project Manager for the Technology Applications Program Office.
Brian Thompson, Vice President, Military Programs
As the Vice President of Military Programs, Brian Thompson brings a wealth of experience to Cruz Associates. Brian is an experimental test pilot and a 20-year veteran of United States Army. Most of Brian's service has been in support of the United States Special Operations Command, which included two separate assignments with the 160th Special Operation Aviation Regiment (Airborne). He has flown 48 different aircraft ranging from gliders to F-18s and a number of different rotorcraft.
Malcolm "Mac" Cornish, Director DoD Acquisitions
In 2021, after 26 years of military and government service, Mac joined the Cruz team as the Director of DoD Acquisitions.  His extensive career includes duties as a 160th Special Operations Aviation Regiment MH-6M pilot, a Defense Advanced Research Projects Agency (DARPA) fellow, Product Manager (PM) MH-47G, PM Mission Enhanced Little Bird (MELB), and PM Special Operations Mission Planning Execution (SOMPE).  He also served as the Commander of the Technology Development Directorate – Aviation / Systems Integration and Demonstration (TDD-A/SID) where he was responsible for the strategic resourcing of personnel, organizational focus, and mission readiness of the largest Aviation-centric laboratory within the Army's Aviation and Missile Center.